Eternal Sunshine of the Spotless Mind tells the story of Joel Barish (Jim Carrey) and Clementine Kruczynski (Kate Winslet), who meet on a train in New York.
With a feeling that they've met before, the film explores their relationship at it's different stages, and delves into their memories of each other.
Clementine (Winslet) has several different hair colours in the film, to represent different periods in their relationship. She also has some quirky outfits to match her free-spirited nature, as she says; 'I apply my personality in a paste'.
* SPOILERS *
Green Hair (Green Revolution)
We see Clementine with green hair in one of the last scenes in the film, where it is established that this is where her and Joel first meet. Clementine is wearing her orange sweatshirt, which we see so often in the film. The green hair represents freshness, nature and Clementines down-to-earth style.
Red Hair (Red Menace)
When Joel and Clementine are dating, we see her hair change to red. This redness represents the fiery passion in the early days of their relationship. Clementine often accessories her hair colour with her outfits, as seen with her matching red skirt, trousers and hat. Clementine also matches her red hair with blue clothing and accessories.
Orange Hair (Agent Orange)
As Joel and Clementines relationship becomes more fraught, her hair becomes orange. This represents the fading away of desire from the early days of their relationship, and we begin to see the couple fighting regularly. Clementine also says her orange hair 'matches her sweatshirt exactly'. This colour is often worn with black clothing.
Blue Hair (Blue Ruin)
When Joel and Clementine are finally reunited, having previously erased all their memories of each other, Clementine has blue hair. This represents the freshness of starting over, but perhaps also the sadness of her and Joel splitting up. This is where the film leaves the couple.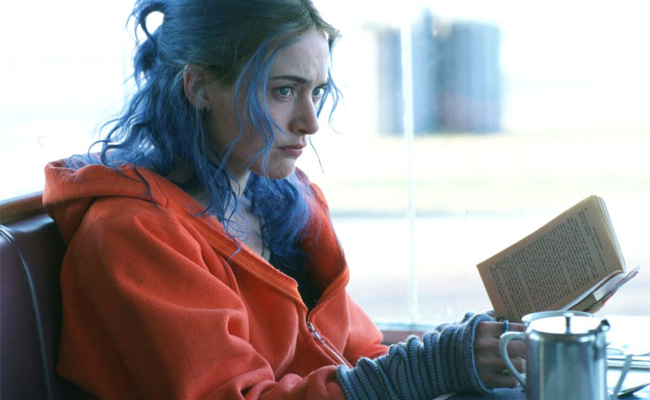 Clementine is clearly a creative and quirky character, as represented in her style choices. Each change of hair colour comes with a change in her relationship with Joel. If only we could have seen Clementine with Yellow Hair (Yellow Fever) in the film!
Which Clementine hair style or outfit is your favourite? Let me know your thoughts in the comments below!
All images courtesy of Focus Features.