Having recently looked at the Dresses and Outfits worn by Rose (Kate Winslet) in 1997s Titanic, I am now going to look at the shoes worn by Rose in the film.
The footwear isn't as prominent as the outfits we see on screen, as per the fashion of the early 20th Century, the dresses featured are all floor length. Most of the shoes worn by Rose are hidden by the gown which she is wearing, but occasionally we get a view of her footwear on screen.
Below are the shoes that we get a glimpse of, in the order which they appear.
Arrival Shoes
We very briefly see these shoes as Rose steps out of the car in Southampton, and first sees the Titanic. The purple straps perfectly match her purple hat.
Jump Shoes
These blood red shoes almost cause Rose to fall into the ocean before the film has even begun! Luckily, Jack (Leonardo DiCaprio) comes to her rescue.
Deck Shoes
Another complete match between the shoes and dress, showing that even the casual footwear has heels.
Dinner Shoes
Considering this dress is one of the most popular in the film, the shoes are basically a hidden feature. This floor length dress covers the shoes completely, and we then see Rose barefoot for the 'Third Class Irish Party' scene. We get a glimpse of the underside of these heels in this behind the scenes photo.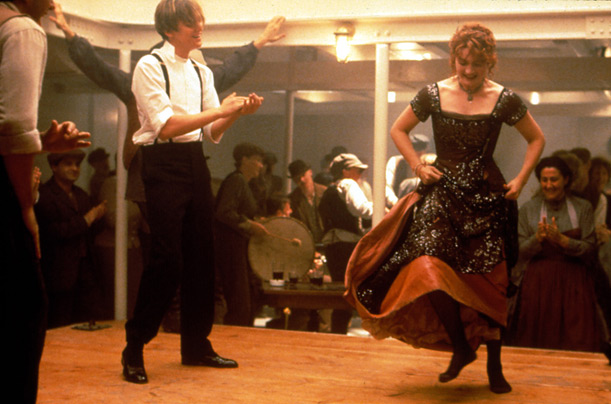 Nighthgown
During the breakfast scene with her fiancé Cal (Billy Zane), we see the slippers that Rose wears to sit out on the deck. Despite being slippers, they look glamourous enough to wear with one of her formal dresses.
Flying Shoes
The beautiful detailing on these shoes is mostly hidden away, and it's a shame that they're not more visible alongside the dress, in this famous flying scene.
Sinking Shoes
I am very impressed that Rose manages to keep these shoes on all through the sinking of the Titanic! It was very sensible of her to wear heels with an ankle strap during the mad rush for survival.
All images courtesy of Twentieth Century Fox.