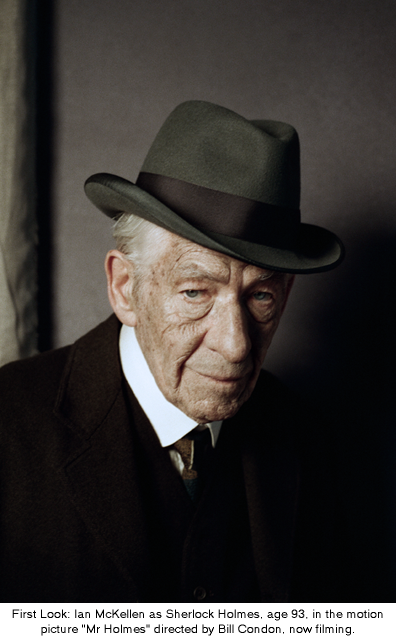 Ian McKellen has tweeted the first image of himself as Sherlock Holmes from the upcoming film Mr Holmes.
Along with the photo, McKellen tweeted; "Over 70 actors have previously played Sherlock Holmes. Now he's 93 years old and it's my turn. #MrHolmes."
Mr Holmes, which is currently filming in London, stars Ian McKellen as Sherlock Holmes in 1947 at the age of 93, living with his housekeeper Mrs Munro and her son Roger in Sussex.
As Holmes mind is failing in his old age, he relies on his housekeeper and her son to help him with one final unsolved case, which forced him into retirement.
Mr Holmes is based on the novel A Slight Trick of the Mind by Mitch Cullin, and has been adapted for the screen by Jeffrey Hatcher, who wrote the screenplay for 2008s The Duchess with Keira Knightley.
Mr Holmes will be directed by Bill Condon, whose previous directing credits include 2004s Kinsey with Liam Neeson and 2013s The Fifth Estate, staring Benedict Cumberbatch as Julian Assange.
Alongside Ian McKellen, the film also stars Laura Linney as the housekeeper Mrs Munro and Milo Parker as her son, Roger Munro.
The cast also includes a collection of British actors and actresses, including Frances de la Tour, Patrick Kennedy, Roger Allam and Phil Davies.
Mr Holmes marks the second collaboration between Condon and McKellen, who have previously worked together on 1998s Gods and Monsters, for which Condon won an Academy Award for Best Adapted Screenplay, and McKellen was nominated for Best Actor in a Leading Role.
Mr Holmes is currently due for release in 2015.
Read the article at focusfilm.co.uk